Name and Logo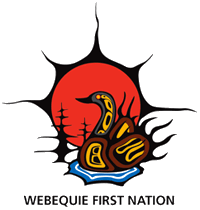 How Webequie Got Its Name
Webequie, pronounced Way-bih-quay, in an Ojibway word that means "shaking head from side to side". It received the name many years ago, and has a special meaning to our people.
The story goes, that early one morning a long time ago, a community member was paddling his canoe out onto the lake. He noticed a family of mergansers (large sleek diving ducks) attempting to take flight, and running across the calm surface. It was a very calm day, and there was no wind to help them get airborne. In their frantic attempt to get some lift, the man observed they were shaking their heads from side to side, looking for a breeze.
This is how our name originated, and why we have a merganser as part of our community logo.
The Merganser

Mergansers are a family of diving waterfowl. The name 'merganser' is said to have originated with the German naturalist, Gesner in the mid-16th century. This comes from a combination of the Latin words mergus (diver) and anser (goose).